We are all witnesses...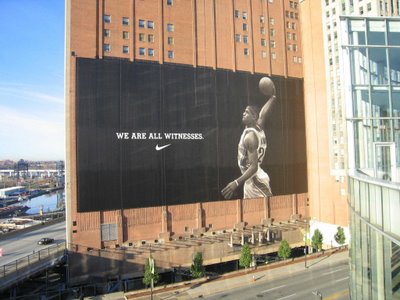 I think I am actually looking forward to watching Game Five tonight between the Cavaliers and Wizards. Not real sure how this whole thing is going to play out though. The Cavs are gaining some valuable playoff experience which doen't hurt but I'm just not sure about this Cavaliers team. LBJ is awesome to watch on a nightly basis because you just never know what he is going to come up with. But the supporting cast just needs to be consistent. Too many times it appears they pass to LeBron and the rest of the team stands around and waits for him to do something. Not that he can't beat anybody one on one but that just isn't going to get it done. We'll shall see.
One thing that it has done is made me at least a little bit interested in the NBA playoffs. Normally I could care less as to what is going on during this time of the year. But LeBron has at least peaked my interest in what is happening. Just another example of the power of King James.
Just heard on Around the Horn that the winner of game five goes on to win the series 80% of the the time. Interesting...hopefully the Cavs can use the home court advantage and continue with that trend.
Prediction: Cavs 94 Witnesses 91 (LBJ 44-8-9)