The Gunny 2006
Here's a story of golf outing:
There's a group of guys that plays in an outing called the Gunny Open. Supposedly it started out as a bunch of bad golfers that just got together and drink a bunch of beer. So we started playing in it about 4 years ago. It was all well and good. They have a game where each team get a pink or yellow ball and you rotate that between players and the low score with that ball wins some extra cash. The also have a "warrior" hole where you only use one club, this year it was a five iron. On top of that they have an over all "winner." I was lucky enough to win 2 years ago. Which is silly to begin with since Ron beat me by a couple of strokes in my own group but I was called the Champ of 2004. It gets you a box of balls, a trophy and a sweet looking sport coat. We also play some side skins between about 4 or 5 groups of our pals to spice things up even a little more. Just it's your normal day of golf, beer drinking, and cigar smoking fun.
I came out of the gates like a house of fire and eagled the first hole. So I was pretty certain that I was winning at least one skin right away. I lipped out a putt on the second hole. It was a ringer that went all the way around the cup and came back at me. But it made for a great start to my day. Our whole group played well as Ron and Mark each shot 73 and Matt and I both carded 78's. (it may have been 77, i can't remember) I felt pretty good about our chances. For the last couple years we have pretty much run away with the yellow ball title. This year we decided this year to shuffle our teams for the hell of it. But we had a wink-wink agreement to take our winnings and split it between the two groups. We played outstanding with the yellow ball and turned in our card with a score of even par. That is by far the best score we ever had since we had been playing. So we were all counting our money as we drove to the bar to collect.
I should mention that we all congregate at a high class joint called Gunselmann's for the awards ceremony. That's where they hand out prizes and we have our post-game meal.
We sat back at Gunselmann's, had a couple of drinks and chowed down as they tabulated the results. I won the long drive on the 1st and took home a sack of lovely golf balls. Got to love it! Then the comedy ensued when they announced that the Yellow Ball was going to be handicap weighted this year. WHAT?!?!?!? When the hell did this start? I heard nothing of he sort. We did end up in 2nd place and Murph's team finished in 3rd (i got some pictures of them looking for their yellow ball in a "pond" that i will have to add later). What a bunch of crap! We did make some money but I think that there was some shady accounting going on. As Murph and I later discussed I think they just don't like us coming in and winning most of the money. Most of the players are not very good golfers and I guess they may feel like we are ringers, but we just all are out for a good time as well. And if we win a little money while having fun, that just makes the day that much better.
The other joy of the Gunny is the prize pool! I should go back and mention again that it's not the highest class outing that you will ever see. You play for your own golf and then we donate money for the following years' prizes. A lot of the prizes are company giveaways like cooler and cozies. And everybody comes home with a bunch of golf balls too. I came home with 2 dozen and I think I gave Murph at least another dozen. But they do make sure that everybody gets something which is nice.
So that is the tale of the 2006 Gunny Golf Tournament. I'll edit the other pics in later!
Rick B
2004 Gunny Champ
Some photographic some photgraphic evidence of the events...
Matt and Mark in the sweet threads
Murph, Greg, Uptown Murphy, Dino
Here's what we think of your scoring (We did take OUR trophy home with us)
Say Cheesy...Smile
I can't seem to take a normal picture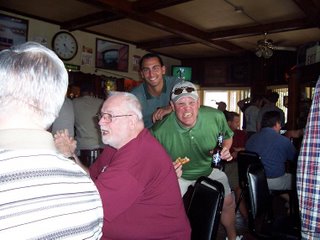 Discussing world politics, I'm sure